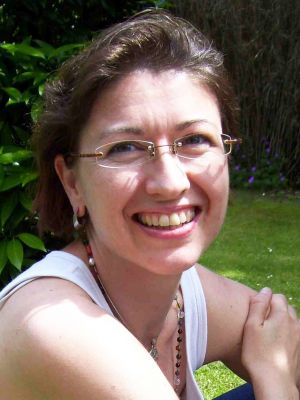 I teach... Yoga.
I practice yoga because... what began with back pain has become the purpose and the philosophy of my life.
I pay special attention to... Ahimsa (non-violence) and awareness of oneself, the body and value of life.
It always moves me... the mantra "Sarvesham Svastir Bhavatu". It is one of the most important mantras of the Hindu religion. For centuries it has been sung to pray for peace and compassion in the world. I find the version by Tina Turner particularly nice.
As a teacher, I feel... connected to the traditional yoga of Krishnamacharya and BKS Iyengar, as well as to the integral yoga of Sri Aurobindo.
The best place for yoga is... where my mat lies...
I would like to pass on to my course participants... how important it is to recognize one's own path, to overcome limitations and to grow.
I am especially looking forward to... my regular seminars with various great teachings, which inspire my courses and also let me grow further.
Eva-Maria Trusch is a yoga teacher, Ayurveda, and wellness therapist and is currently undergoing training as an alternative practitioner.